Mohican Island is a small camping island on Lake George NY. There are great views and many different campsites. Learn more and see photos!
About Mohican Island on Lake George
Mohican Island is in the Glen Island Group, toward the bottom of the Tongue Mountain Range...which to many means rattlesnakes. But we checked with the ranger station, and they said it's really not that big of a problem. There have been a few sightings, but the rangers remove the rattlers immediately to ensure the safety of nearby campers.
When we explored Mohican Island, we scoped out the various sites and snapped some photos to help you plan your island camping trip. There are 9 campsites on Mohican Island on Lake George. See below for more information on these and other Mohican Island campsites. To make a reservation now, go to ReserveAmerica.
Note: If you are planning a camping trip with your family, I would choose campsite 8. It has a shallow entry, which makes it accessible for children. If you are planning to have a group of friends camping together, the ideal combo would campsites 4, 5, and 9.
Our Guide to Mohican Island Campsites
Campsite 1 offers partial shade and some privacy from the nearest campsites: 6 and 8.
Campsite 2 is a very mossy and grassy site with a tent platform. It does pair nicely with 8 as they are so close. The dock is nice and long, which makes it ideal for novice boaters.
Campsite 3 does not have lake views from the campsite. It is private, but the dock requires you to pull your boat in horizontally to the island. This can give your boat a lashing if you don't have the proper bumpers.
Campsite 4 is very open and has great rocks and views. It is near the middle of the island on the west side, but you can see both east and west, much like a point. It does not have a tent platform, but there is a nice cove that 4 shares with 5 (view cove).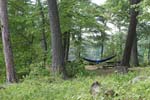 Campsite 5 is by far the nicest site as it's at the point. The spot is a little more private and gets both morning and evening sun, as well as breezes from east and west. It's a great sunny site with a shore dock (the kind you dock parallel to). This site shares a cove with campsite 4 (view cove).
Campsite 6 is a private spot that is ideal for a large family or couple. The open area is preferable. However, it has the same type of dock as 3, so bring extra bumpers.
Campsite 7 has a long dock that it shares with campsite 2. It is also a nice distance away from 2. This makes it a nice site for a couple who wants a little more privacy. The open area has great views from the tent platform, and the dock has the nicest breeze.
Campsite 8 is very close (viewing distance) to campsite 2. The two campsites share a cove (closer to 2) which makes a shallow entry point for kids, albeit a tad slippery due to moss on the rocks. 8 shares a dock with campsite 1.
Campsite 9 faces the point of campsite 4. They are very close together. It's recommended to only get either site if you are camping in a group.