Big Burnt Island on Lake George features a variety of campsites. While some are fairly private, others are great for small and large groups.
About Big Burnt Island on Lake George
Big Burnt is the largest state-owned island on Lake George at 30 acres. Big Burnt may have received its name from the practice employed by Native Americans who would ignite forest fires to clear land for agriculture. The island is close to the Glen Island Ranger Station. To make a reservation, check out ReserveAmerica!
Guide to Big Burnt Island Campsites -
Please note, we've updated this site as of 7/11/2020 with new photos in the slideshow above and all campsites have photos
Campsite 1 is a large flat site with a cooking stove but no tent platform. It shares a dock with campsite 27, and it is very close to sites 2 and 3. This would be an ideal campsite for three families on the three adjacent campsites.
Campsite 2 pairs best with 3 but is also very close to 1. You can see through to all three sites, so there is not a lot of privacy on this campsite. Set high on the land, campsite 2 has a great view of Glen Island and gets morning sun.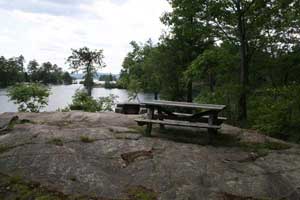 Campsite 3 is very open and sunny. It is a high site and has a tent platform. A picnic table is set on a large rock.
Campsite 4 has lots of trees and is a large flat site. You'll receive a fair amount of shade and privacy here compared to the other sites. There is a tent platform, and it pairs well with 5 and 5a.
Campsite 5 is a wide and open site, but it is also on a slope. Not ideal for small children due to some ledges. It's close to 5a and has a tent platform.
Campsite 5a has a tent platform and pairs nicely with 4 and 5.
Campsite 6 is located on a slope and has a tent platform that measures 12' x 14'. The site receives morning sun and is quite private.
Campsite 7 has fabulous views and features an open area with a tent platform. The sunny site is great alone, but it pairs nicely with 8 as well.
Campsite 8 is flat, open, sunny, and ideal for kids. It is near a small swamp that separates 8 from 9; you can hear bull frogs in the swamp. Despite its proximity to the swamp, the campsite should not be overly buggy as it is in an open space.
Campsite 9 is a great site on a point that receives morning sunlight. Although close to 8, it is separated by an inlet and swamp, so they do not go well together. Since it's at a point, it should have a nice breeze which helps keep bugs away.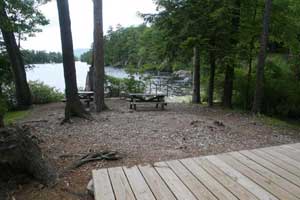 Campsite 10 has been called the absolute nicest site on the island. This is also on a point (more like a peninsula), and it's surrounded on three sides by water. The campsite is sunny and has a shallow and sandy water access point. Since it's farther from the other sites, it's quite private as well. In addition, the dock accommodates 2 boats.
Campsite 11 has a shallow entry point and offers open views of the lake. Campsite 11 and 12 are close together and spacious and ideal for families traveling together. Both have platforms.
Campsite 12 has a large shallow area, but rocks can be slippery for younger kids.
Campsite 14 is a large shady site far away from surrounding sites. This makes it a great "solo" site.
Campsite 15 is a wide open wooded site on a slight point. It is very shady, and some consider it one of the nicest sites on the island.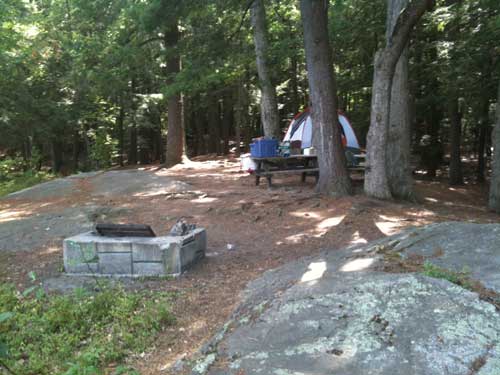 Campsite 17 is on a slope but has nice views of the lake. The tent platform within the site has railings, and there is enough room for another tent on the ground as well. It's a very private site.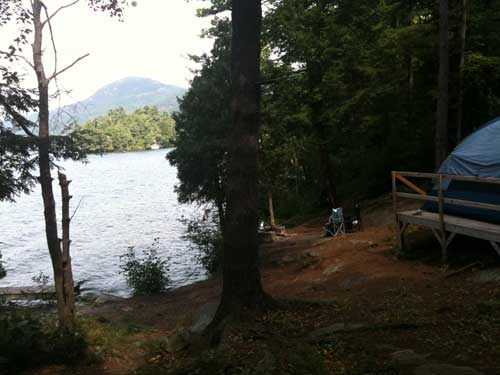 Campsite 18 is a large shady site that catches the evening sun. It's the perfect spot for a large tent. The site has an open view of the lake.
Campsite 19 is a rocky site on a slight slope. It pairs nicely with 18 and includes a tent platform and parallel dock.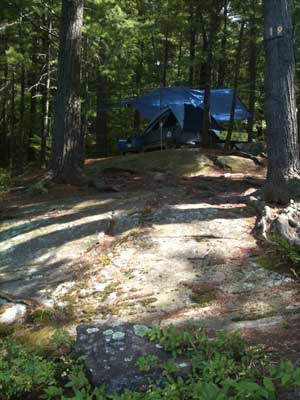 Campsite 20 is located on the west side of the island, so it's ideal if you want evening sun. The site is on higher ground from the lake and has a nice view of the water. There is a tent platform that fits up to 6 people. The site pairs nicely with campsite 19.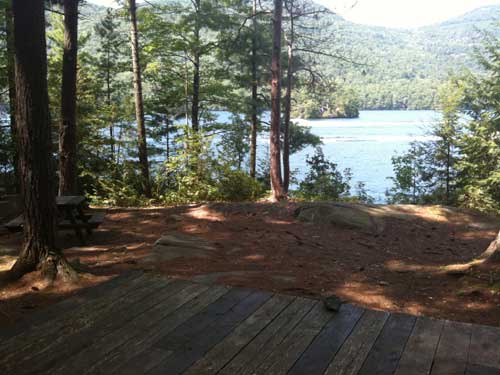 Campsite 21 is a very large site surrounded by tall trees that provide privacy. It pairs nicely with 20, 22, and 23. This site has a nice spot for a second tent.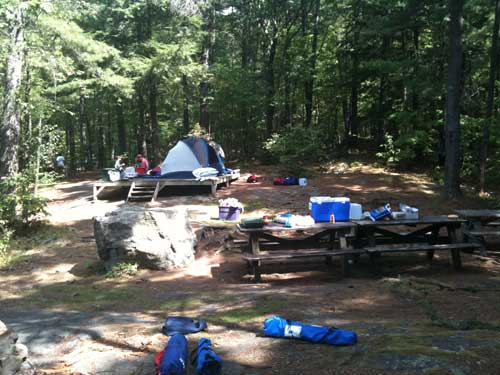 Campsite 22 is a small shady site that faces west toward Tongue Mountain. While fairly private, it pairs well with 21 and 23 as you can see both sites. There is a shore dock and a tent platform.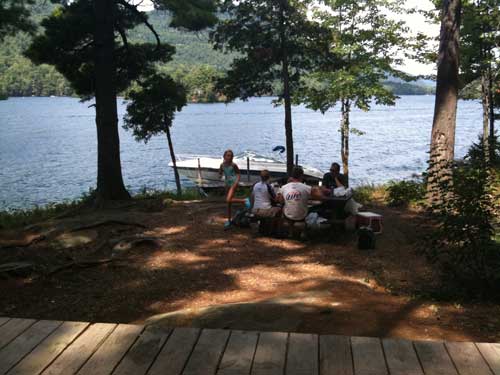 Campsite 23 pairs nicely with 22 has a tent platform. The spot is quite rocky, but there's a shore dock and a shallow area for swimming.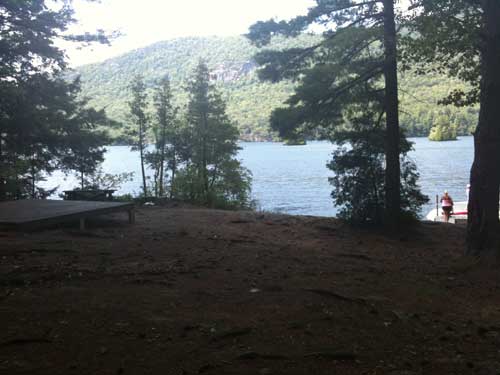 Campsite 24 is a small and private rocky site with tree roots and a good slope. The site gets some afternoon sunshine and faces west. Closest site is 23.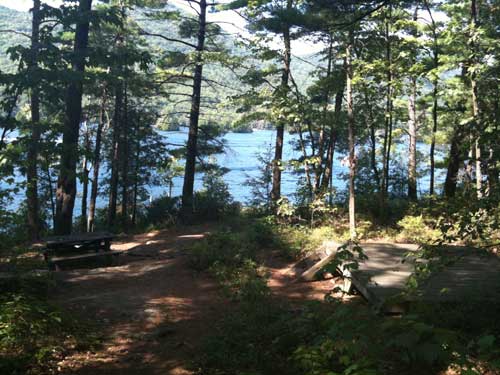 Campsite 25 is a small rocky site located near a busy boat channel. It's a great site for evening sunsets, and there are some nice spots behind the main site for additional tents.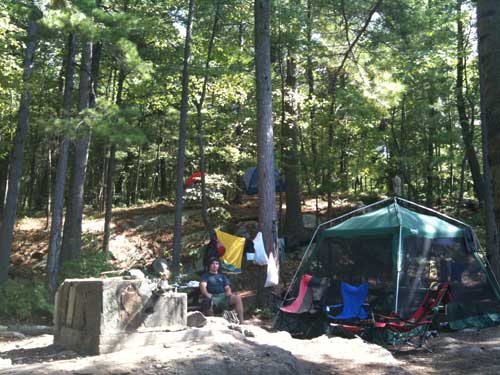 Campsite 26 is a high rocky site away from the water on the western corner of the island. It offers lots of sunshine and privacy, and you can find shady spots as well. The site is not ideal for families because it's perched on a ledge, but it is quite nice for a couple or young adult campers. Closest site is 25.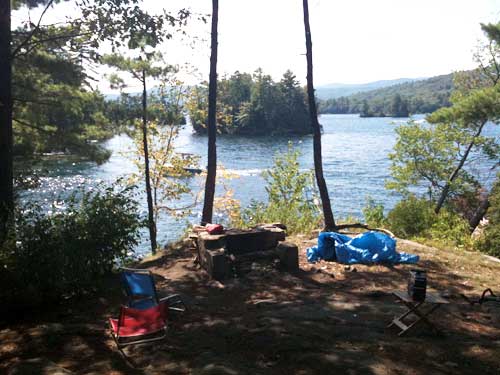 Campsite 27 is open and mostly flat. The shady site has a tent platform far back from the water.
---