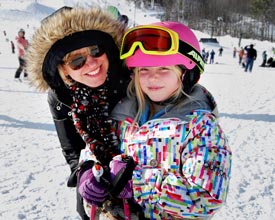 Lake George, New York is in a great location near several wonderful ski resorts. Between winter's often abundant snowfall averages, and excellent ski-making abilities, most ski centers are able to provide skiing from late November through mid-April!
Here's a quick rundown of nearby places where you can hit the slopes!
West Mountain Ski Resort:
West Mountain is a short drive south of Lake George and offers both day and nighttime skiing as well as a snow tubing park that is a wonderful outing for families, non-skiers and skiers alike!
West Mountain's 40 ski and snowboarding trails are a mix of both natural snow trails and machine groomed trails that range from beginner to expert. After you've hit the trails, unwind at the lodge where you can find a pub menu with snacks, soups, pizza and sandwiches, and frequent live entertainment. West Mountain is located just off I-87, Exit 18. For current trail conditions, weather and events, visit the West Mountain Ski Resort website.
Gore Mountain:
Gore Mountain is an easy drive north from Lake George to North Creek, a quaint Adirondack community that's been welcoming skiers since the early 1950s. Gore features 75 Alpine trails as well as 9 Nordic and Snowshoe trails spread over 347 skiable acres, and ranging from beginner to expert.
In addition to Gore's extensive snowmaking capabilities, snowfall averages 150 inches or more a year. Gore recently expanded to the North Creek Ski Bowl where you can enjoy tubing and family-friendly day and twilight skiing and snowboarding. To visit Gore Mountain, travel north 5 miles to Warrensburg and continue through the town until you reach Rt. 28, which will take you to North Creek. For current trail conditions and weather, visit the Gore Mountain website.
Bromley:
Farther away, but a doable day trip to Vermont, is Bromley – a family-friendly mountain with an enjoyable southern exposure. There are 44 trails over varied terrain, ranging from beginner to expert, as well as lots of activities for the kids. You can reach Bromley via Route 149 from Lake George, through Granville and to Manchester. Bromley is 7 miles outside of Manchester, VT. For weather, trail information and directions, visit their website at www.bromley.com.
Killington:
Also in Vermont, and about the same distance as Bromley, is Killington. This large ski resort features 200 day trails, including snow tubing, alpine and snowshoe trails. Killington receives an average of 250 inches of snow annually, in addition to snowmaking capabilities. Killington is also reached by taking Route 149 from Lake George to Route 4, which you will follow through Rutland and to Killington. For weather, trail information and directions, visit their website at www.killington.com.
<< Back to the Lake George Winter Guide