| | Lake George Jazz Weekend: smooth jazz on the shores of 'the Queen of American Lakes.' |
| --- | --- |
LAKE GEORGE NY -- The 2013 Lake George Jazz Weekend is September 14 & 15 at Shepard Park in Lake George NY. Jazz enthusiasts, you don't want to miss this weekend festival of outdoor entertainment, featuring a talented lineup of jazz musicians and groups down by the Lake...
Bring your own chairs, blanket and picnic and enjoy the music from the lawn, or listen from your boat behind Shepard Park beach.
Beatniks, you're in for a treat! Each year the festival includes a lineup extremely talented musicians from across the globe. Admission is FREE and with Lake George as the backdrop the experience is one of a kind!
Artist Lineup:
Saturday, September 14
Brian Patneaude Quartet :: 1 PM
Joel Harrison - Anupam Shobhakar Quintet :: 2:30 PM
Michele Rosewoman - New Yor-Uba Project :: 4:15 PM
Special Saturday evening performance at 7:30 by New Gary Burton Quartet, followed by fireworks over the lake!

Sunday, September 15
Christian Howes - Southern Exposure :: 1 PM
Ben Williams - Sound Effect :: 2:30 PM
Dave Liebman Big Band :: 4:15 PM
View a LakeGeorge.com Jazz Fest Video! Want to view a recap of events and what to expect at this years festival? Watch our video with footage from past festivals!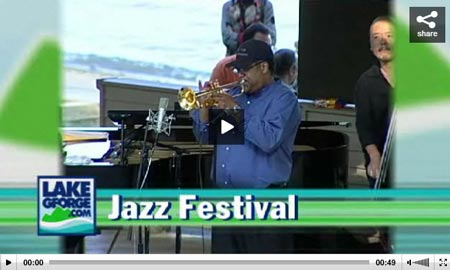 Bring the family, leave your wallet at home, and soothe your soul with great jazz all weekend long at the 2013 Lake George Jazz Weekend in Shepard Park!
Brought to you by the Lake George Arts Project. For more information, call 518-668-2616.