Lite Up The Village 2015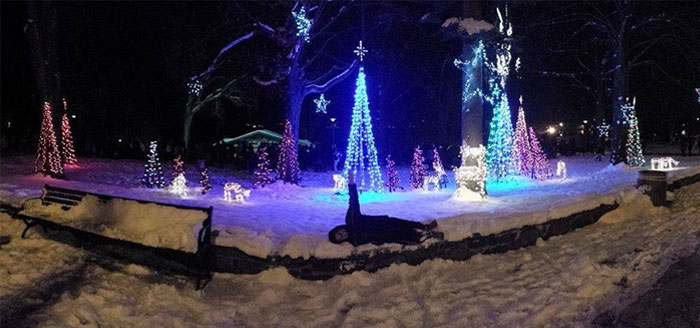 LAKE GEORGE NY - Bring the kids and the camera, and come witness the wonder as Lake George Village comes alive with light for the holidays!
The spectacular Lite Up The Village family event returns on
Saturday, November 28, 2015 from 4:30pm - 7:00pm.
Adults and kids of all ages will enjoy watching as Lake George Village welcomes in the holiday season with 4,500 holiday lights.
Opening ceremonies featuring the Bobby Dick and Susie Show in Shepard Park begin at 4:30pm. The popular local entertainers will lead spectators in singing Christmas carols as well as hosting the annual "Twelve Nights of Christmas" sing-along.
Dream Pony Farms will provide pony rides and a petting zoo for children. Price Chopper Bounce Houses will also be available, weather permitting, free of charge. Gift certificates from local businesses will be raffled off during the ceremonies.
Santa and Mrs. Claus will arrive at 6:00pm during a spectacular fireworks show over the lake. Members of the Lake George Fire Company and Auxiliary will host families at the firehouse where Santa will greet the children. The Lake George Community Band will play a Christmas concert at the firehouse and refreshments will be served.
Lite Up The Village is one of the most anticipated holiday events in Lake George NY. It's a wonderful event for families, and best of all, it's completely free!
For more information call the Lake George Regional Chamber of Commerce at (518) 668-5755.
Find more holiday fun in the Lake George Holiday Guide »
Photo: Bill LoBrutto