Today until Fri, May 24, 2013
Wed, May 29, 2013 until Sun, Jun 2, 2013

What I learned in a two hour woman's boating course with instruction from Talia at Castaway Marina in "girl speak".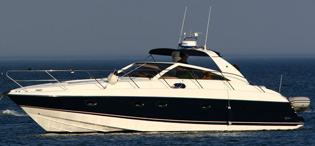 Know your terms: Bow (front – "you bow forward"), Port (Left), Starboard (right), Stern (back), Beam – greatest width of the boat.
When you get in the boat, check that you have the basics: 3 flares (not expired), fire extinguisher, paddle and life vests, gas and oil.
ALWAYS turn the ventilation blowers for a few minutes prior to starting the engine, so that the gases can escape the engine, and you don't blow up.
Look at the bilge pump area to check for water, turn on the bilge pump if needed
Then turn on the ignition and just look at the engine. As Talia says, "You can see if something's wrong -you don't have to be a mechanic to notice if a hose is spurting out water".
Know your gauges: RPM should be at 3000 at 30 mpg, Oil pressure about 60 and engine temperature from 160-175.
On Lake George the speed limit is 45 mph in daytime and 25 mph at nighttime.
You should be 100 feet away from the shore at all times on a boat and 500 feet in a jet ski.
Stay at the "one click" speed when in the 5 mph zone. This is easy to feel: when you move the lever forward, you'll move really slowly. When you want to speed up, lift up the trim when you are starting out, and remember to level out the boat, ie. plane.
From Nov 1st to May 1st, even Adults must wear life vests on the boats.
You pass boats on the right. If a boat is coming on the right, they have the right of way, and they should slow down as they pass you. If they are coming from your left then they have the right of way and you should slow down and let them pass.
Most people don't know the rules so don't assume they do.
The most important thing about docking is doing the "one click", never going past that "first click" forward and backward and go slow, slow, slow - there is never a hurry to dock.
Once you've docked, turn off the battery with the switch – that way, if you accidentally left a light on, your boat will start up next time.
You'll see green and red buoys – remember "Red Right Returning", so when heading NORTH, the red buoys are on your left and vice versa when heading south.
Back to Lake George Boating Guide
Lake George Island Camping
Where to Launch Your Boat
Share