Today until Fri, May 24, 2013
Find A Pumpkin Patch In Lake George!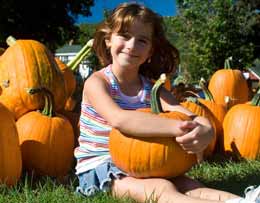 Pick your own pumpkins at a pumpkin patch in the Lake George, NY region! While there is not a pumpkin patch located in Lake George, there are many pumpkin picking opportunities just a short drive away, so plan your fall outing today!

Wondering where to go? Check out the list below, featuring U-pick pumpkin patches around Lake George and a few that are worth the drive!





Fall Pumpkin Picking Near Lake George, NY
It's About Thyme Farm
32 Smith Road
Olmstedville NY, 12857
(518) 251-5297
Hours: Wed - Sun 9am - 5pm
Bring your family or a group of friends to Its About Thyme Farms in Olmstedville - just 35 minutes from Lake George - where you'll find the ultimate pumpkin for pies or carving! If you visit Its About Thyme Farms, you'll also find beautiful mums, ghoulish gourds and fresh produce.

Ellms Family Farm
468 Charlton Road
Ballston Spa, NY 12020
Phone (518) 884-8168
Hours: Weekends 10am - 5pm
If you'd prefer to head south, there's the delightful Ellm's Farm in Ballston Spa. Children will have a blast going for hay rides, scampering around the pumpkin patch, navigating through the "Eerie Cornal" corn maze and bouncing on the oversized, orange jumping pillow - a true delight!

Bowman Orchards LLC
157 Sugar Hill Road
Rexford, NY 12148
Phone (518) 371-2042
Hours: Every day 10am - 5pm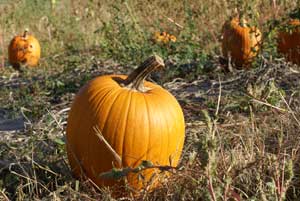 Schuyler Farms
1124 Route 29
Schuylerville, NY 12871
Phone (518) 695-5308
Hours (for the month of October):
Thursday 4pm - 7pm
Friday 4pm - 10pm
Saturday 10am - 10pm
Sunday 11am - 6pm

Sunnyside Gardens
345 Church St, A
Saratoga Springs, NY 12866
Phone (518) 584-1034
Hours: Mon - Sat 8:30am - 5:30pm
Sunday 8:30am - 5pm

Did we miss one?

The options are not limited to these. If you're up for the drive, there are many places for pumpkin picking north or south of the Lake George region if you want to turn your pumpking picking adventure into a day trip! See Adirondack pumpkin patches and Albany pumpkin patch options.

Ready to make memories? Head out to one of these local pumpkin patches, take home a few colorful pumpkins and make the scariest jack-o-lantern to put on your porch! Pumpkins are also great for painting and other crafts. Happy picking!

<<Back to Fall Guide