Boat Inspection & Decontamination Locations on Lake George
As of May 2014, all trailered boats entering Lake George must undergo an inspection at one of the seven regional stations around the lake beforehand. The purpose of these inspections is to ensure that boats and trailers are not harboring invasive species. The main goal is to keep Lake George clean and in its high quality state for many generations.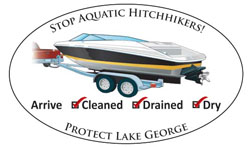 The best way to protect Lake George is to prevent new invasive species from entering. This is possible by making sure boats, trailers and other equipment are cleaned, drained and dried before entering the water.
There are four main steps of what you need to do to help protect Lake George
Before you leave home, make sure your boat is clean, drained and dry.
Make sure you have a Lake George Park Commission boat registration sticker. They are available at forty vendors around the lake.
Before you head to your favorite launch site, visit one of the inspection stations around Lake George.
Get your boat inspected, and if needed, decontaminated at the inspection station for no cost.
Inspection stations are located throughout Lake George at the following locations:
Dunham's Bay Dock and Launch
Huletts Landing Marina
Mossy Point Public Boat Launch
Roger's Rock Public Campground and Boat Launch
Norowal Marina
Lake George Inspection Station
Million Dollar Beach
For the latest information on how and where to wash your boat, visit Lake George's boat inspection page.
More information on the Lake George Association
Back to Lake George Boating Guide
Where to Launch Your Boat