Today until Fri, May 24, 2013
Wed, May 29, 2013 until Sun, Jun 2, 2013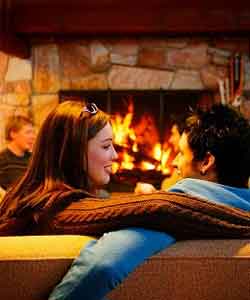 If you're snowed in this Valentine's Day (or want to pretend that you are), here are some fun and romantic ideas for a memorable Valentine's Day in.
Play tag or hide n seek - There's something about chasing, grasping, dodging, laughing and awakening the inner kid in each of you that may bring a new way to fall in love with each other all over again.
Watch a movie - Pop some popcorn and cuddle up with a favorite movie - romantic or not - beneath a cozy blanket! See some suggestions for romantic movies »
Play a game - Whether it's a board game, card game or piecing a puzzle together, games can bring you closer together or bring out your competitive bone! Either way, it helps fill the time snowed in with fun and laughter.
Cook a meal together - From breakfast to dinner to dessert, discover how fun it can be to turn up the heat in the kitchen! Don't forget to light the candles and pour the wine! See our meal for two suggestions »
Hold a photo shoot - Strike a pose and snap photos of each other -- from fun and silly to artsy and abstract. With outfit changes, makeup and lighting adjustments, this can be hours of fun!
Make Valentines - It's amazing how we abandon the use of doilies, construction paper and crayons for Valentine's Day cards after we graduate grade school. Rediscover your creativity while cutting out paper hearts, gluing on doilies and writing love notes to each other on homemade Valentine's Day cards. The result will be keepsakes you will cherish forever!
List memories - You and your valentine each make a list of some of the most memorable times in your relationship. They can be good or bad memories, big or small events. When you are done making your own lists, share them with each other and discover some things you may have forgotten!
Look through old photos - Browse through old photos in albums or on the computer. It can be fun to look back and reminisce about old times, old friends and fun adventures along your journey together.
Make your own candy - If you have chocolate bars, chocolate chips, confectioner's sugar, nuts, butter and/or other ingredients at your fingertips, chances are you can make some tasty sweet creations to enjoy together. Look up candy recipes online and try your hand at Willy Wonka's trade!
Dream together - No matter what stage of the relationship you're in, there is always room to dream! Spend time talking about or gathering inspiration for some of the milestones you want to reach together, whether it's your wedding day, dream vacation, dream home, bathroom remodel, retirement home or some other dream you may have. Write down ideas, sketch out plans or collect photos from the web (Pinterest, anyone?) and start dreaming!
« Back to the Lake George Valentine's Day Guide