Award-Winning, Nationally Known Ice Castles in Lake George
Ice Castles has been a hit sensation for kids and adults alike in five other states, and now the interactive winter attraction has come to Charles R. Wood Park in Lake George! Read up on what to expect with the attraction, how it came to Lake George, and what to know about tickets and everything else before you visit.
Editor's Note 02/24/22, 1:30pm: According to the Ice Castles website, the Lake George location is closed for the season. Thank you for a magical winter! We hope to see the return of Ice Castles next season, and we'll update this page as soon as information is announced.
Jump to the bottom for the latest info: Tickets, Dates & More
Sponsored by: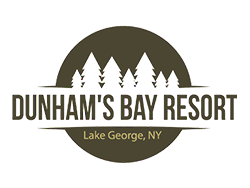 Stay At Lake George's Best Kept Secret
Just a five-minute drive from Lake George Village on the lake's southeastern shore, Dunham's Bay Resort is perfect for family vacations and couples retreats. Enjoy the indoor heated swimming pool, on-site restaurant, and serene setting. Learn More »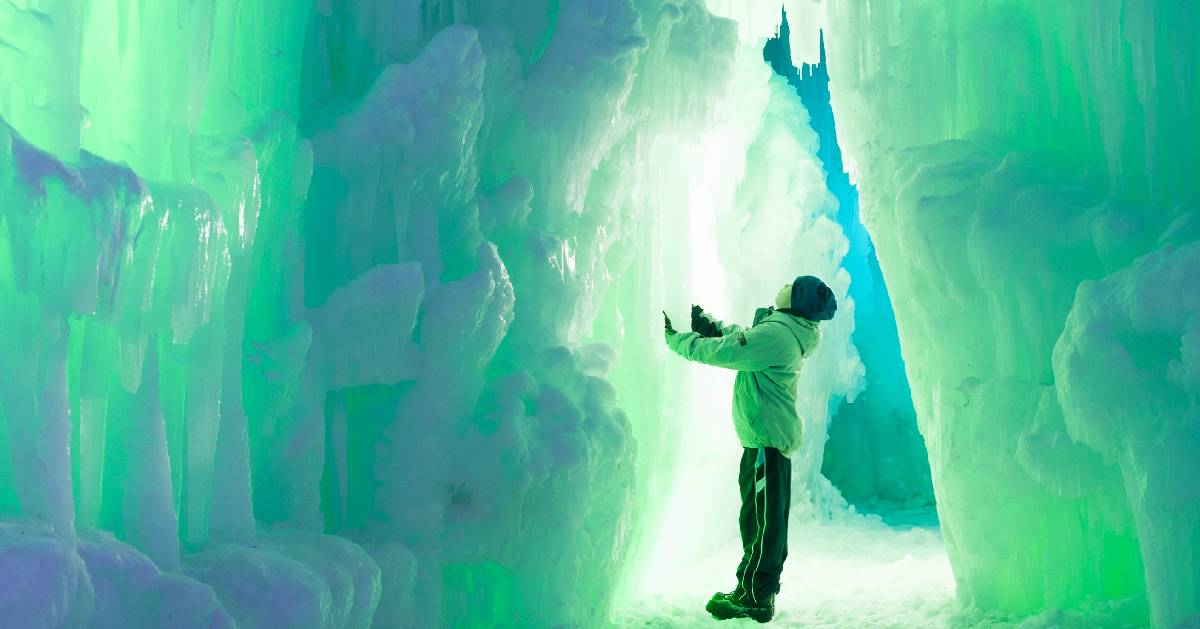 Ice Castles Announced for Lake George at Press Conference
"It's a game changer," Mayor Robert Blais said about Ice Castles coming to Lake George, at a press conference held at Charles R. Wood Park on October 3, 2021. "Today, we make the Lake George region year-round."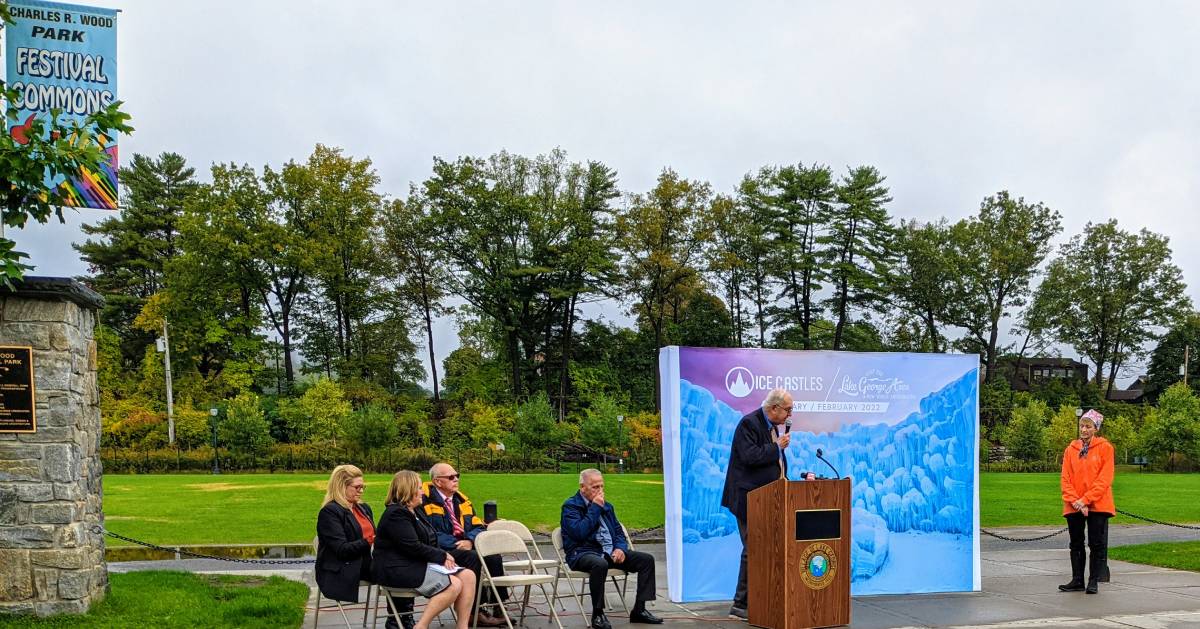 Excitement was in the air at the press conference announcing the arrival of Ice Castles, particularly as the rain held out for the event on an otherwise drizzly day.
"If you can control the weather like you did today, it's going to be a great winter!" Kyle Stanifird, CEO of Ice Castles said.
Stanifird indicated that choosing Lake George as the next Ice Castles location was an easy decision particularly after seeing the cooperation between private and public sector in the community.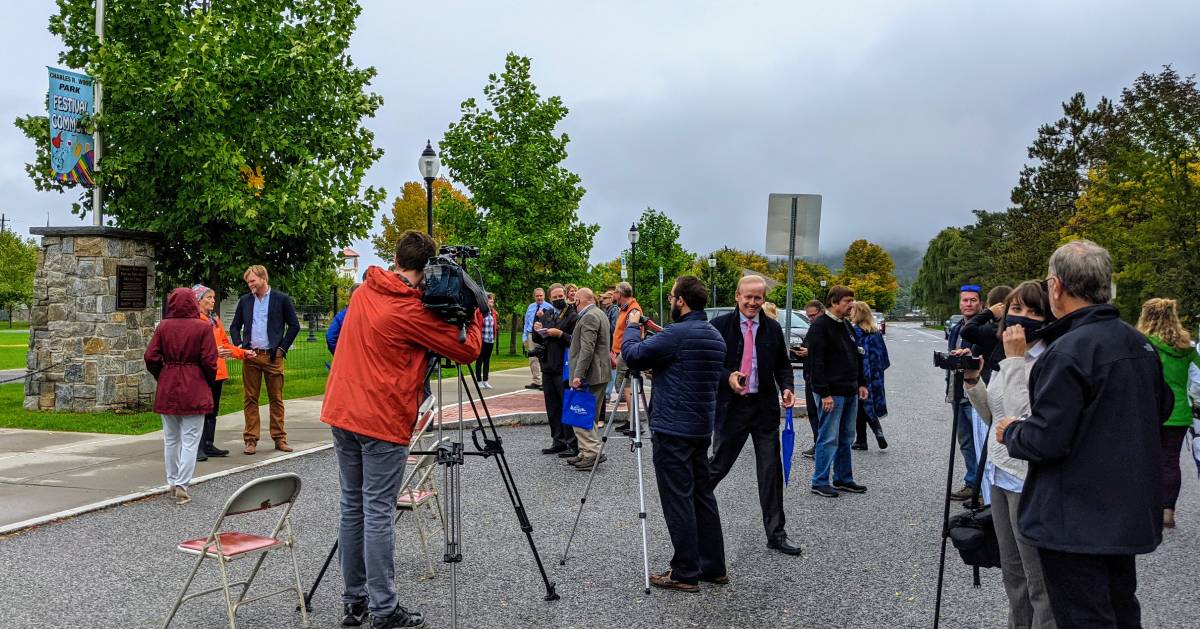 Indeed, Ice Castles has been a massive collaboration in the community that has been three years in the making, according to Warren County Tourism Director Joanne Conley. And, this major boost for Lake George is not just for tourists, Mayor Blais emphasized, but for tax-paying, year-round residents as well.
Chairwoman of Warren County Board of Directors Rachel Seeber shared a few reviews of Ice Castles she'd found just that morning. Highlights included: "It's a beautiful and bright spot in the winter," "We visited three times in one winter," and, "It's always so magical."
Stanifird reiterated that the goal is to bring magic to the Lake George area with Ice Castles. What does that mean exactly? Keep reading to get more details on what to expect!
What to Expect With This Magical Winter Wonderland Attraction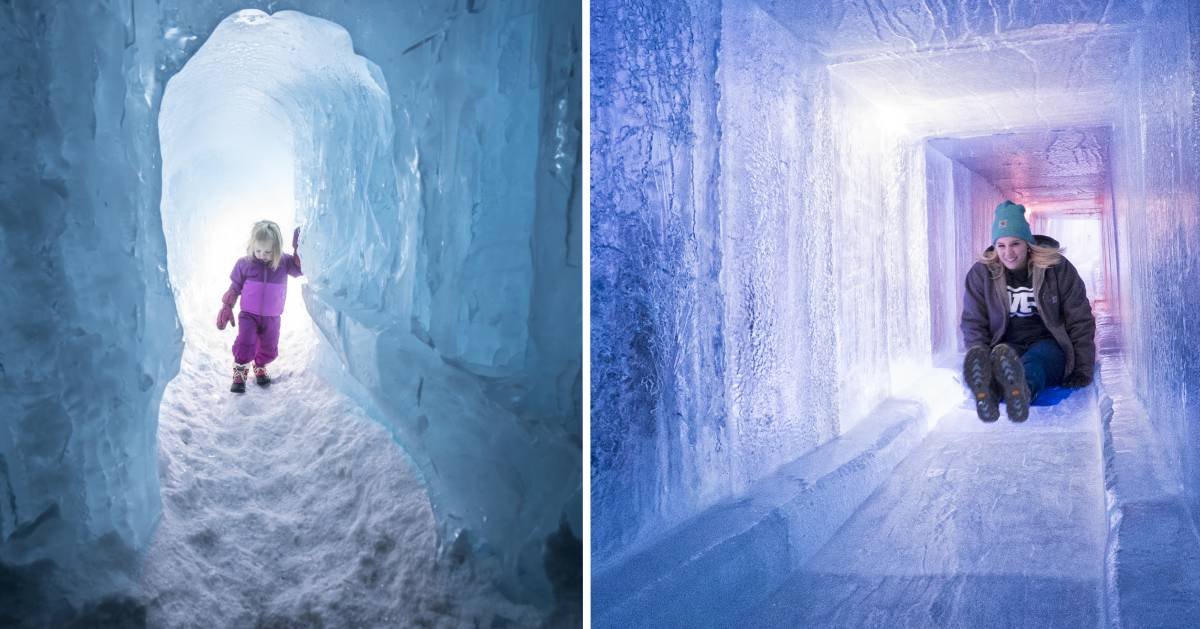 Ice Castles brings a fun, frozen world to life through crawl tunnels, ice slides, ice caverns, an ice maze, frozen thrones, fountains, and an Arctic Alcove, where you can book a private VIP experience.
Most guests spend 30 minutes to 1 hour exploring the attraction. The other locations for Ice Castles are in New Hampshire, Minnesota, Colorado, Utah, and Wisconsin.
This one-of-a-kind attraction takes a team of 20 to 40 ice artisans approximately eight weeks to construct, with the team harvesting and placing between 5,000 and 12,000 icicles. The various features are then drenched with water and repeated, until the ice reaches heights of about 15 to 30 feet. LED lights embedded inside the ice illuminate the attraction at night.
The concept for Ice Castles was born from founder Brent Christensen, who aimed to build an ice cave for his daughter, that turned into an internationally renowned tourist attraction.
Dates, Pricing & More for Ice Castles in Lake George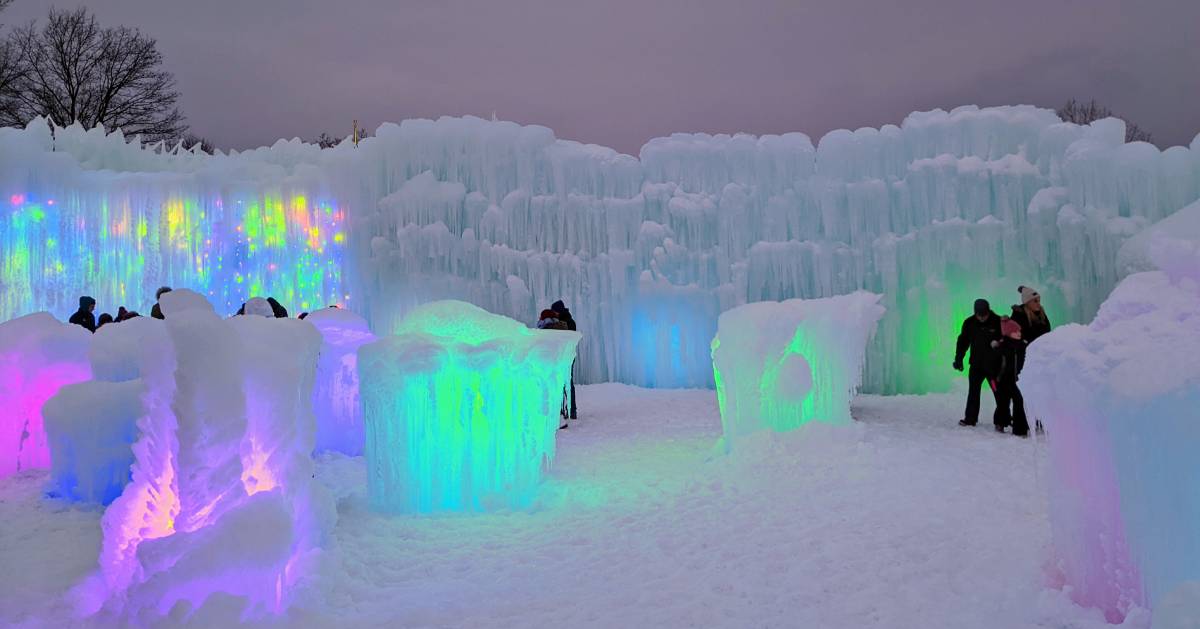 Dates for 2022
Ice Castles is tentatively scheduled for January 23 to February 21, 2022. Opening dates are weather dependent, but most locations open in January and remain open until early March. More dates are expected to be added for this season, and we'll update this page as soon as details are announced!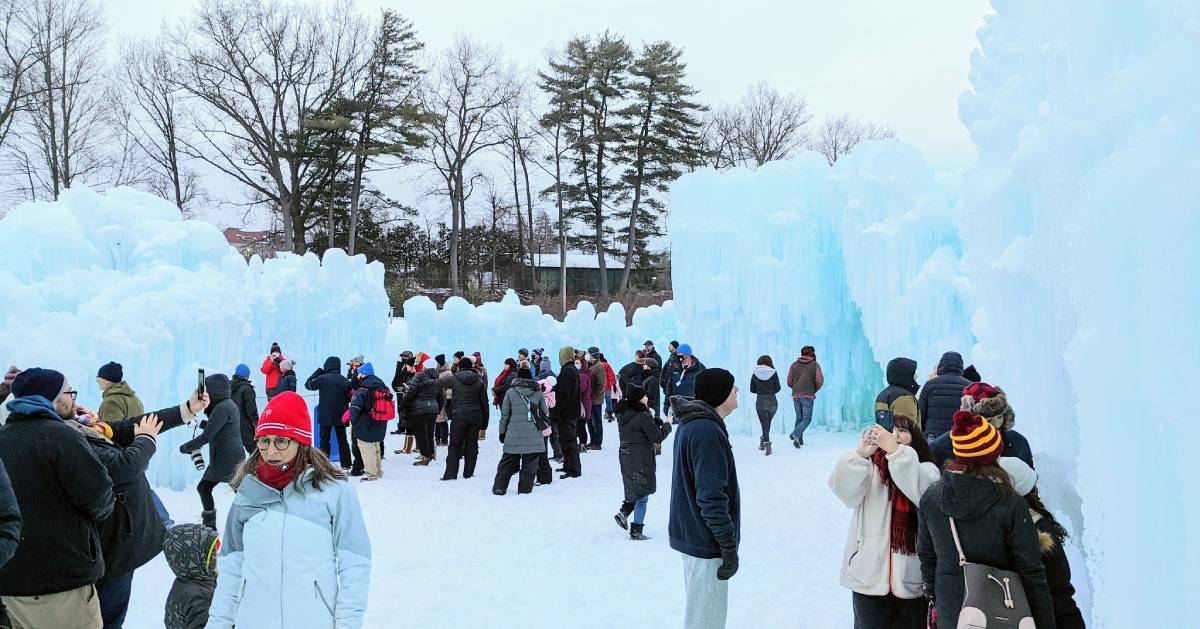 Ice Castles Tickets Info
Ice Castles tickets are on sale now! General admission for Monday through Thursday is $20 for adults and $15 for kids 4 to 11; Friday through Sunday is $27 for adults and $22 for kids. Holiday pricing for February 21 will be the same as weekend pricing.
If tickets are not sold out, Ice Castles organizers have been selling tickets on-site. This is not guaranteed, and on-site pricing may be subjected to higher rates.
Please note, Ice Castles is weather dependent, and may be temporarily closed or unavailable due to weather. Or, certain features or areas of Ice Castles may be temporarily closed.
Parking Info, Etiquette & Other Tips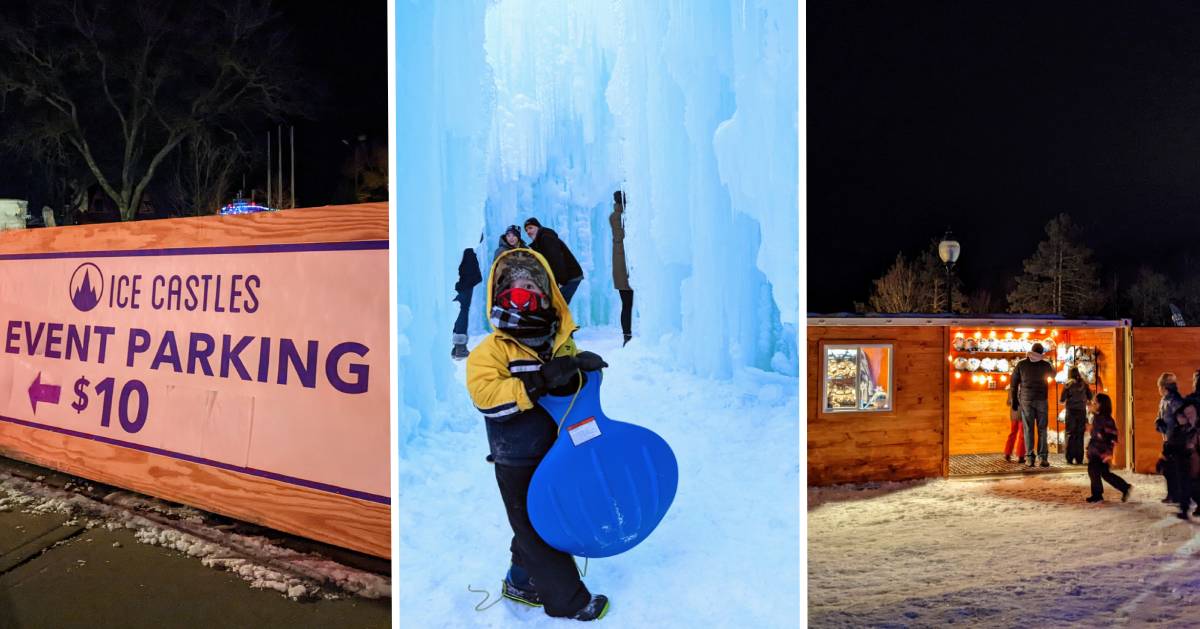 Free parking is available along Elizabeth Little Boulevard (formerly West Brook Road). There is also $10 parking close to the Ice Castles.
If you are bringing infants or toddlers, be aware that no strollers are allowed inside. But, you can bring a small sled you can pull them around in.
The ice slides may have lines (they move quickly!), or height restrictions. Some slides require use of their super flat sleds, at no additional charge.
Face masks are encouraged but not required because Ice Castles is outside. Be respectful, use judgement, and be aware that it does get crowded.
When taking photos or selfies, please do what you need to do and then move along, so others can enjoy the attraction.
When exiting, there is small gift shop where you can purchase merchandise, there may be a food truck, and there are porta-potties.
Ice Castles is added to and expanded upon as the season goes on and weather allows, so it's not necessarily a one-and-done activity. If you choose to return, you may see sculptures, slides, or other features that weren't there before!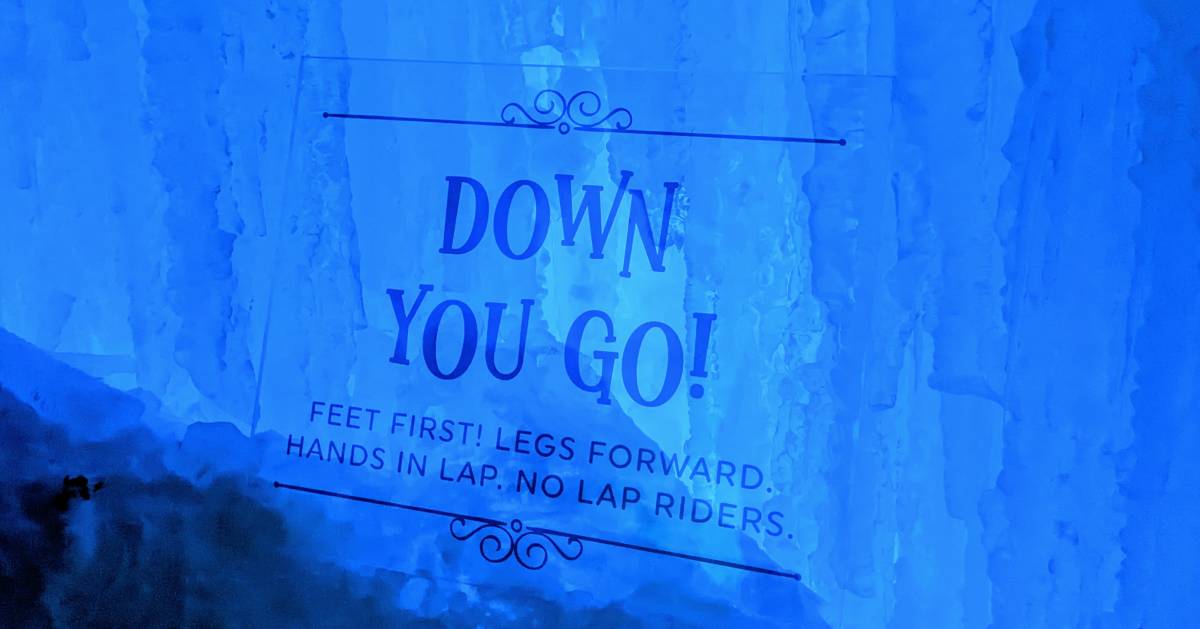 Plan Ahead & Book Lodging
The introduction of Ice Castles coincides with the 60th anniversary of the Lake George Winter Carnival as well as Winterfest, so there's plenty to enjoy in the region this season!
The Lake George Chamber expects attendance upwards of 100,000 for the enchanting attraction (77,000 tickets have been sold as of February 2, 2022, according to the Lake George Mirror), so guests will definitely want to plan ahead with tickets, lodging, and related plans.