Things To Do In Lake George On A Rainy Day
There is so much to do in this area when it's raining…you can still have loads of fun! We asked our Facebook fans what they would do on a rainy day, and these are their answers:
Relax!
Lake George is beautiful, even in the rain, so take time to soak it all up. Park yourself in front of a window overlooking the lake, whether it be from your hotel lobby, restaurant on the lake, or (if you're lucky enough to have one) your own lake-view room... and let the creativity flow! Pen some poetry, journal your travels, or simply relax with a book and a cup of coffee.
Although, if you are vacationing in Lake George with kids, relaxation may not be an option - even on a rainy day. So get out and do something! Below are some attractions and things to do in Lake George in the rainy weather.
Activities!
There's still so much to do indoors when the sky outside pours. Here are some fan-suggested ideas for where to go and what to enjoy:
Museums!
Take the time to open your mind – explore the history and significance of Lake George through various engaging and interactive museums – fans mentioned the Wild Center, the Adirondack Museum, The Hyde Collection, the Fort William Henry Museum, and the House of Frankenstein Wax Museum!
Movies!
Going to the movies is a classic activity for rainy or cold days! There are several movie theaters within an easy drive of Lake George, but you may want to get your tickets in advance, since the rain tends to draw big crowds.
Shopping!
Keep dry as you search for a souvenir to remember your soggy-but-super Lake George vacation! Pick one of the shops in Lake George or do it all at Aviation Mall.
Steamboat Rides!
Imagine the scenery of the lake through a mystical mist of rain…the Lake George Steamboat Company and Lake George Shoreline Cruises both have covered boats. Between the two, there are snacks, dining, bars, a dance floor, and the incredible views to enjoy!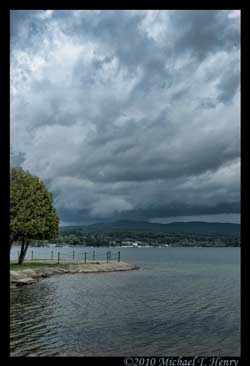 Food!
Who doesn't love it? And who doesn't love it more on a chilly wet day? Eating was among the most suggested options by fans, who were eager to offer some recommendations:
P.S. For those traveling without kids, these are also great places to fill your glass! Too early in the day to go wild? Head over to the Adirondack Winery and try a wine-tasting.
Day Trips!
One of Lake George's many draws is its location – near a lake, surrounded by mountains, and near many other exciting parts of the Capital Region where it may not be as wet! Pile into the car and go on a day-trip to Lake Placid, Warrensburg, and more destinations. Think of it as a vacation within a vacation!
And one of our last useful suggestions...
…umbrellas!
You'll soon find that when you dip into your creative side, Lake George in the rain holds just as much fun as in the sun. Rainy forecast? Not to worry – you're on a Lake George vacation!