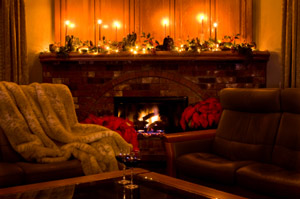 One big holiday downer can be the task of pulling out the boxes of decorations left in storage. Sometimes the décor can be more flashy and gaudy for your taste, or too expensive to buy, or maybe you feel like you do not have enough space. However, there is a purpose to all of these decoration rituals - a bit of visual cheer to brighten up every room. Take a few tips to change the experience from another stressor to a fun process you will be grateful you took to the time to do.
For a classier look than bright shiny colors, try muted tones. A deep cranberry or mauve, or dark forest greens, are still Christmas colors, but bring a maturity to decorations and a feeling of deep appreciation for the spirit, not commercialization, of the holidays. Silvers or golds, especially if more dull than reflective, are classic accents to any holiday colors.
To keep within your decoration budget, try for a few less expensive options. An easy alternative to hanging baubles on a tree, and just as colorful, is to place all of your season's greetings on the boughs. Cards can be placed standing on branches, or you can use a hole punch in a discreet corner and a little bit of string to hang up the greetings. If you still think something is missing, gather a few pinecones outdoors and bring them inside. After they dry, these tree accents will also provide a holiday scent around the home, and will not go bad for months. Wrapping empty boxes with leftover squares of wrapping paper is cheap and festive at the same time. Also consider taking the ribbons and bows in storage, and placing them on objects which are already in place – frames, furniture, maybe even the complacent Basset Hound. This is also a great space-saver if you feel crowded or find yourself in smaller quarters than last year.
Other great space savers include putting decorations on the windows instead of throughout the room. Glass balls, hung from a nail, hook, or anything else above a window, will fill with sunlight during the day and twinkle to outdoor passers-by with indoor light. Baking a batch of yummy cookies for the season? Add some dye – colors turn the ordinary plate into a compact holiday decoration, pleasing to the eye and the taste buds!
When it comes to holiday cheer, there is always a classy alternative, always enough, and always space. Do not let these seemingly difficult obstacles stop you from enjoying the season – everyone deserves their own bit of joy!
Share