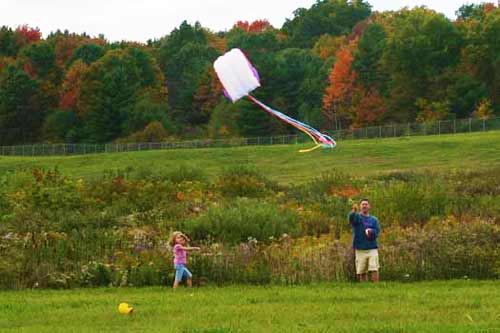 It's fall in upstate New York and one thing that guarantees is a steady breeze. Some may call it annoying, or refreshing, and yet others call it fun! Fun because it means that it's kite flying season! Kite flying is a great way to get outside in the fall and enjoy the sunshine, fresh air and the changing leaves.
LakeGeorge.com lets you in on the best places to fly a kite in Lake George this season, starting with kite flying at the ever-popular Adirondack Balloon Festival!
Kite Flying at the Adirondack Balloon Festival
Many families flock to the airport on Balloon Festival weekend and hope for a good breeze because hot air balloons aren't the only colorful things taking flight at the event! Tailgating on the runway has become an event in itself, where children and adults alike fly kites from all over.
Queensbury Airport becomes a massive festival with grills, picnic tables and every outdoor game imaginable from soccer and lacrosse to football and ladder ball. Friends from all over meet and enjoy the art show, buy crafts and taste food from the top restaurants around the north country as they peddle their fare. A trip to the bounce house is a must for the kids!
And don't worry, if you don't have a kite, they'll sell you one. Get more details on this year's Adirondack Balloon Fest!
Best Places To Fly A Kite In Lake George
For those that couldn't make the Balloon Festival we want to know -- where's the best place to fly a kite in Lake George? Our facebook fans have spoken! Here are some of their ideas:
Battlefield Park (Ft. George Park)
Along Beach Road "if the wind is blowing, of course" -Brian Evans
the top of Prospect Mountain
...and the default answer of "in the sky...?" or "If you're at Lake George... you're lucky enough!" -Arion G. Moser

View the Guide to the Adirondack Balloon Festival>>

Find more fall activities in Lake George