The Black Velvet Art Party is a celebration of black velvet art and a fundraiser for the Lake Geroge Arts Project! Artists donate new, original works of art for the party's silent auction.
This funky formal features awards for original black velvet art and attire, live music, dancing, games, psychic readings, and more!
The Black Velvet Art Party returns to Lake George for its 24th year on Saturday, November 3, 2012. This unique event fundraiser runs from 8 pm to midnight, featuring plenty of velvet, art, live entertainment and funky, nonstop action!
A silent auction for black velvet artwork is the highlight of the evening's event schedule each year. Artists contribute new and original artwork containing black velvet, black velours, black velveteen or black flock. All entries are judged, and winners receive prizes for Best of Show and other categories.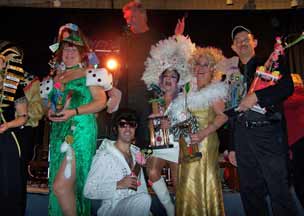 Join the guests this year and dress up in funky formal attire for a chance to win an award for original black velvet attire! This year's theme is "Nautilus." Enjoy the night with fun and games, dancing, psychic readings and live music by Groove Therapy.
All proceeds from the night go to benefit the Lake George Art Project's Courthouse Gallery Exhibition Series.
The Black Velvet Art Party is sponsored by the Lake George Arts Project. Reach them at (518) 668-2616 for more information.