Explore Uncas Island... why stay at a hotel when an island site awaits! See photos and learn more about Uncas Island.
Uncas Island is a mid-sized island with 13 campsites. It is located next to Glen Island and the Rangers Station. This makes it a perfect spot for people watching and ideal for the less organized camper. Glen Island has everything from ice-cream to T-shirts so if you come across something you're missing, you dont have to worry!
Our Guide to Uncas Island Camping Sites.
Campsite 1 is located on a wide open peninsula, which are generally our favorite spots. This spot is no exception, but be warned there is little cover so it could get very windy. For sun lovers it's a perfect spot with an expansive campsite and a fire pit overlooking Glen Island.
Campsite 2 is a very large, flat site. It is open and mostly shady. The site is private and looks towards Glen Island. Continue south on the island and the next campsite you'll hit is campsite 11.
Campsite 3 is partially shady and surrounded by oak trees. It does not have a tent platform. The site is open and expansive, which is ideal for a large family. Continue south to arrive at campsite 4.
Campsite 4 is one of our favorite campsites! It offers both morning and evening sun and is quite large. It has a tent platform with a great view.
Campsite 5 is a great, open site and is another of our favorites. Offering both morning and evening sun, you'll catch great views of both the sunrise and the sunset.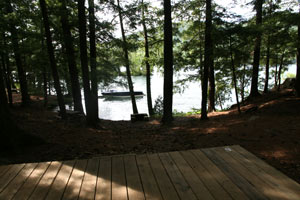 +enlarge
Campsite 6 is also known as "The Camphitheater." It is well nicknamed, as the campsite slopes gradually toward the lake and the firepit. It's a very shady site with a tent platform.
Campsite 7 is a slopy site with pretty views. It has a tent platform near the lake.The site has a high cliff on one end and a water entry on the other.
Campsite 8 is a large, flat site. It is open with a pine floor, which makes it ideal for a large family or group of friends. It is also private and looks out onto the lake.
Campsite 10 is directly south of campsite 1 and pairs nicely with sites 1& 2. Perched high on a cliff, site 10 is a distance away from 1 and 2. It's a small, airy campsite with spectacular morning sun and a tent platform. The ground is covered by mulch.
Campsite 11 is flat and has a tent platform. This site also has a parallel dock. It is located on the west side of the island, which means early morning sun. Due to its open setting it offers nice afternoon sun as well.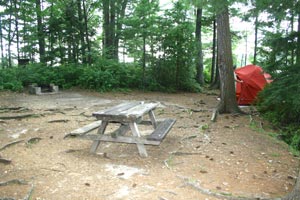 +enlarge
Campsite 13 is a great flat site with a spot right near the waters edge for your tent. A shady spot that offers great sunsets, it is ideal for a couple. There is no tent platform.
+enlarge
Campsite 14 is on a rocky ledge that overlooks the lake. It has a tent platform and offers nice open views. This site is not reccomended if camping with children.
Campsite 15 is a stellar site with northern views. It's open, large, and has a tent platform. Its sunny with just the right amount of trees so you can find sun and shade.