A fabulous two-campsite island close to Bolton Landing, NY.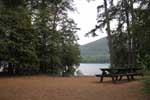 Campsite #1 is large, flat and sunny with plenty of shady spots and nice places to go swimming and easily get into the lake.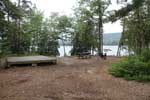 Campsite #2 on the souther tip of Ranger Island is also flat and sunny and very nice.
The island also has a nice composting bathroom. Rangers campsites one and two are far enough away for privacy and ideal for two families camping together. Ideally if your friends aren't boating, you'll want to pick up friends in Bolton Landing for this Island.