CALL TODAY!
(518) 668-5762 ext. 411
Please say that you found us on
LakeGeorge.com!
The Lake George Dinner Theatre, celebrating our 47th season, presenting a unique combination of Fine Dining and Professional Theatre Entertainment at a Great Price in the most intimate professional dinner theatre in America.
LAKE EFFECT by Tom Dudzick. "A three-tissue comedy" (Dallas News). Runs July 17 thru October 11, 2014. (PG Rating)
The Pazinski family gathers for an important meeting in their recently-sold tavern in a working-class Buffalo, NY neighborhood, only to find themselves trapped by the famous "Blizzard of '77". With a driving ban in effect and nowhere to go, the family is forced to confront a mixture of hilarious and touching issues. Matinees Tue, Wed, Thu; seating at 11:30AM; curtain at 1PM. Evenings Wed-Sat.; seating at 6:30; curtain at 8PM. Show-Only tix available. Box office (after 6/15/14) at (518) 668-5762 ext 411. Info at Lakegeorgedinnertheatre.com. Administrative office at (518) 306-4404.
Route 9, .7 mi. north of Adirondack Northway, (I-87) Exit 21.
Our comfortable accommodations include:
Tableside service by our friendly wait staff. No buffet lines.
Groups and tour buses welcome (over 75 groups in 2013)
The most intimate professional dinner theatre in America.
A choice of four delicious entrees (beef medallions, chicken marsala, Norwegian salmon, vegetarian lasagna)
Air conditioning
Sound reinforcement throughout the theatre
Wheelchair access
Plenty of free parking
A magnificent view of the Adirondacks and the Queen of American Lakes
A terrific date night or family event (kids 13 and up)
Call the Box Office at (518) 668-5762 x411 after 6/15/13 or Call the Administrative Office any time at (518) 306-4404. For Group Sales, call Sharon Reynolds at (518) 668-5762 ext. 421..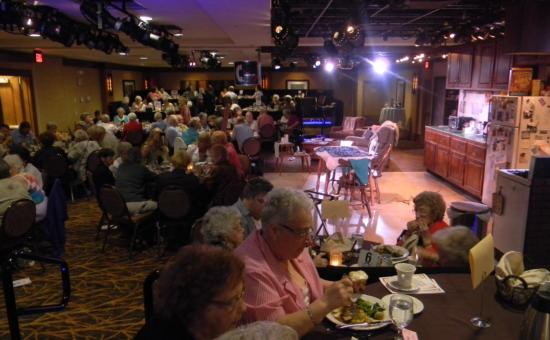 Click on the thumbnail images to see the larger version




Print More Information
Always get confirmation of the business location.
Cara
wrote on

Thursday, October 06, 2011 at 11:25 PM
My husband & I just attended the dinner theater. The food was pretty good. I had the beef medallions. They were a little over cooked for my taste but the hollandaise type sauce is was served with was nice. My husband had the pork tenderloin. It was perfectly cooked, nice & tender & juicy. The 2011 production was Skin Deep. At first I thought we may not make it through the whole show. We were by far the youngest people there ( I am 33, my husband 40). It started a little slow but it turned out to be very funny. The service was excellent. It was also nice to be I'm such a small theater. That made the experience even more enjoyable. Overall it was a very nice night out!
When: Thu, Jul 17, 2014 until Fri, Jul 18, 2014 at 6:30 PM to 9:45 PM
Where: Lake George Dinner Theatre
Cost:
$69/person includes tax & gratuity
Join us for Opening Night festivities as we kick off our 47th season!
When: Sat, Jul 26, 2014 until Sat, Oct 4, 2014 at 11:30 AM to 3:45 PM
Where: Holiday Inn Resort, Lake George
Cost:
$69/person includes tax & gratuity
Special Saturday Matinees on July 26, August 9 & 30, September 13 & 20 and October 4.