Fort Ticonderoga
Your Adventure Awaits!
100 Fort Ti Rd
Ticonderoga
,
NY
12883
Main Contact: Beth Hill
Every day is an event at Fort Ticonderoga and every year is a new experience. Bring the family and experience history come alive by land and by water! Spend the day and discover all that Fort Ticonderoga has to offer. Open rain or shine!
Experience Fort Ticonderoga and immerse yourself in a place where America made history! Fort Ticonderoga is a family destination, a center of learning and an interactive, multi-faceted experience. It's exploring the beautiful gardens, finding adventure in our events, marching with the Fife and Drum Corps, and learning about historic trade. It's a visit through the reconstruted Fort, a stroll overlooking Lake Champlain and the Green Mountains of Vermont, and an afternoon in our exhibit galleries exploring our premier collections. A visit to Fort Ticonderoga connects all visitors to a place and time that defined a continet, a nation, and its continued legacy.
Fort Ticonderoga is the only site in America that tells a new story each year through dynamic historical interpretation. This year, discover 1756 from the French perspective and explore how it took an empire to sustain and fight for a continent. Daily programming brings to life this epic story through tours, soldier's life programs, historic trades, soldier's gardening and hands-on family programs.
Your adventure awaits! NEW for 2015- Take a tour around the Ticonderoga Peninsula on our Carillon Boat Cruise. Daily, evening, and group tours, as well as charters available. Travel the historic La Chute waterway in a rented canoe. Visitors can also witness and birds-eye view of Fort TIconderoga's strategic military landscape at the summit of Mount Defiance! Explore our six-acre corn maze designed especially for Fort Ticonderoga, open daily 8/14/15-8/31/15, Sat. & Sun. 9/5/15-10/18/15. Also open 9/17/15 & 10/12/15. Experience the maze at night! Maze by Moonlight, Friday 10/23/15 & Saturday 10/24/15. For more information on special events, daily programs, and battle re-enactments, visit www.fortticonderoga.org. Spend the day, rain or shine, at America's Fort! Open daily 5/9/15-10/18/15. Two day tickets available!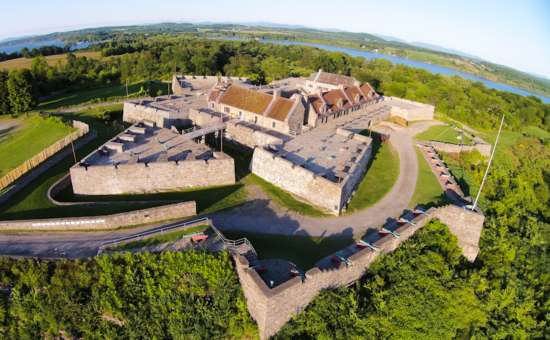 Click on the thumbnail images to see the larger version














When: Sat, Dec 5, 2015 at 10:00 AM to 4:00 PM
Where: Fort Ticonderoga, 100 Fort Ti Road, Ticonderoga, NY
Ticonderoga Gun for the Siege of Boston! Colonel Henry Knox, a Boston bookseller and avid reader, impressed General Washington and his council of war, becoming colonel of the Continental Army's artillery. His first challenge was to bring guns from Ticonderoga to the siege of Boston. He knew the challenge before him as he wrote to Washington on December 5, 1775. The garrison at Ticonderoga is so weak, the conveyance from the fort to the landing is so difficult, the passage across the lake so precarious, that I am afraid it will be ten days at least before I can get them on this side. When they are here, the conveyance from hence will depend entirely on the sledding; if that is wood, they shall immediately move forward; without sledding, the roads are so much gullied that it will be impossible to move a step. In this one day living history event, step into Fort Ticonderoga as if it were December 6, 1775, when Henry Knox rode into these storied walls. Watch as soldiers, days before their enlistment expires, work as carpenters to maintain the Fort. Experience the raw power of oxen as these thousand pound animals pull sleds of cannon tubes. Examine the science of gunnery, preserved in Fort Ticonderoga's massive cannon collection. Stand inside the stone walls in the stark beauty of winter on the very spot where Henry Knox began his Noble Train of Artillery.