Events, Deals, Hotels, Restaurants, Things to Do, Shopping...
Your Everything Lake George Guide
Travel in Lake George with this complete, portable planner. LakeGeorge.com On the Go! app is the only source you need for information on Lake George, NY! PLUS, find real information like public bathroom spots and tips from Lake George locals.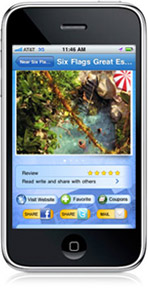 Why LakeGeorge.com On the Go?
Our app was created by locals living in the Lake George region that know the area like the back of their hands. They are the same creators of LakeGeorge.com, the hugely popular and informative website dedicated to everything Lake George. Let them help you by being your personal travel planner .. on the Go!
Planning your trip?
Save your favorite attractions, events and coupons in your Personalized Favorites. Explore Lake George! Easily find and locate local restaurants, shows and attractions, read reviews, view photos and add your own reviews.
Discover everything there is to love about Lake George, New York and the Lake George Region on the LakeGeorge.com On the Go! Travel and Fun App.
Find over 500 Attractions, Things to Do, Restaurants, Lodging Properties and Local Businesses
With Descriptions, Photos, Coupons, Maps, Directions, Reviews and Ratings:
Tips from Lake George Locals
Fireworks Schedule
Maps
Events
Current Weather and Seasonal Weather Info
Camping, Hiking & Boating Tips
Vacation Itineraries
Public Bathrooms
Contests
Facebook/Twitter sharing
My Favorites Personalized Trip Planner
LakeGeorge.com On the Go! doesn't just cover Lake George…It spans across the entire Lake George Region including information & tips about:
Adirondacks
Bolton Landing on Lake George
Brant Lake
Chestertown
Cleverdale
Corinth
Diamond Point
Glen Lake
Glens Falls
Hague
Kattskill Bay
Lake Luzerne
North Creek
Pilot Knob
Queensbury
Schroon Lake
Silver Bay
South Glens Falls
Ticonderoga
Town of Lake George
Village of Lake George
Warrensburg
Specifications:
Category in iTunes: Travel
Version: 1.0
Release Date: May 2011
Compatible with: iPhone and iPod touch
Languages: English
Website Support:
For APP Users:
We want to make sure all of our Lake George app users get the best experience with their iPhone app!
Do you have a question or suggestion for the app? Want to report a typo or error?
Recommended for: Anyone and everyone traveling to the Lake George Region and wants to get the most out of their vacation!
Easily access restaurants, events, lodging, major attractions and more on your iPhone app while you are on vacation!